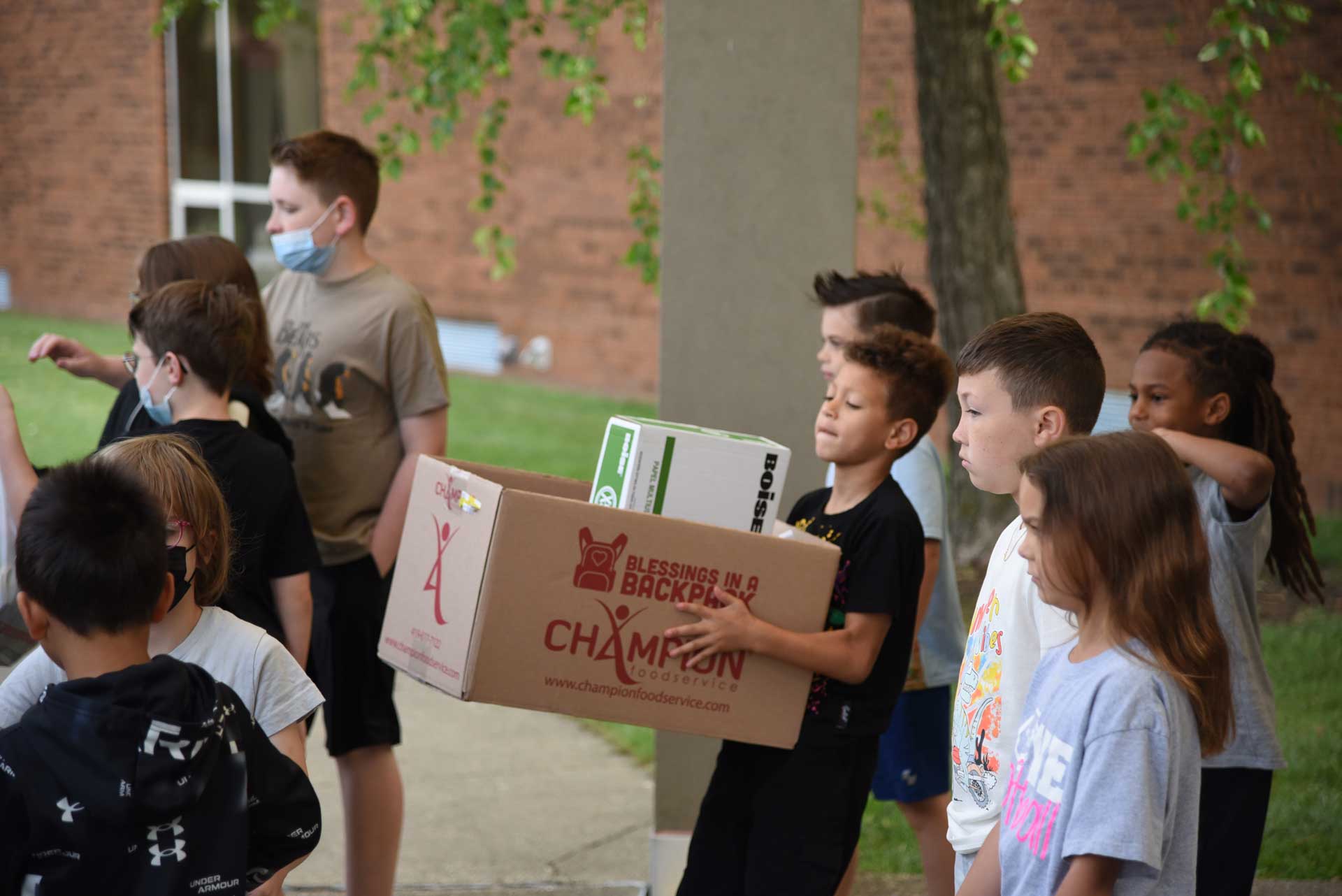 What can I recycle?
What We Can Accept
Electronic Waste (E-Waste)
Fees apply for E-Waste.
All Televisions – $20.00 per item
Computer System – $20.00 (Monitor, Tower, Keyboard and Mouse)
Covered Electronic Devices – $5.00 per item
Dry Cell Batteries – $2.00 per pound
Microwaves – $5.00 per item
Smoke Detectors – $10.00 per item
Video Display Devices – $10.00 per item
Wet Cell Batteries – $5.00 per battery
For additional information please call (812) 948-4733
Glass
Glass Jars & Bottles (any color can be recycled)
Metal lids accepted. You can leave the labels on.
Household Hazardous Products
We cannot accept these items through our regular recycling process, but some may be accepted through our Household Hazardous Waste recycling process for a fee. Please see the Household Hazardous Waste Recycling section below for more information and fees.
Cleaning products (ammonia, bleach, and drain cleaner).
Home improvement products (adhesives, paint, paint stripper and thinner, stain, and varnish).
Herbicides and pesticides.
Lawn and pool chemicals.
Latex Paint
Latex paint is not hazardous waste and can be safely thrown away with your regular trash once it is solid. Because garbage collectors cannot pick up liquids, simply leave the lid off and mix in kitty litter, sand, or sawdust to speed up the drying process. Once it is solid, place the can inside your garbage cart with the lid off.
Metals
Aluminum Beverage Cans & Cups.
Empty Aerosol Cans, lids and tips must be removed.
Foil Pans & Wrap.
Steel / Tin Cans, you can leave the labels on.
Motor Oil
You can bring to our Grant Line Road location, or drop off motor antifreeze, motor oil and filters to:
B&C Auto Parts
3423 Paoli Pike
Floyd Knobs IN 47119
Please call to confirm hours of availability at (812) 948-1577
Paper
Paper Products
Office paper, newspapers, magazines, mail and envelopes (with or without windows), telephone books, paperback books, paper grocery bags, empty pizza boxes. Keep all shredded paper bagged.
Paper Cups
Remove and discard plastic lids.
Cardboard
Flatten and remove plastic packing materials.
Cartons
Both refrigerated and shelf-stable (Juice boxes, soup/stock boxes, etc.) Remove caps and straws.
Egg Cartons
Paperboard
(Cereal boxes, frozen food boxes, 12-pack containers, etc.).
Plastics only items numbered 1-7
Plastic Bottles & Jugs
We can only accept plastic bottles and jugs with numbers 1-7 stamped in the bottom. If you crush the bottle/jug, you can screw the lid back on for recycling. You can leave the labels on. Note: To be considered a bottle or a jug, the mouth (top) of the container must be smaller than the bottom.
Plastic Cups/Containers/Tubs
Fruit cups, yogurt containers, butter, cottage cheese, sour cream tubs and and other miscellaneous tubs. Items must be designated 1-7. We do not accept clam shells. Lids may be attached, but they are not required.
Plastic Cups
Plastic beverage cups from fast-food restaurants (McDonalds, Starbucks, etc.) and plastic souvenir cups. No styrofoam cups. Lids may be attached, but they are not required.
Plastic Bags
You can recycle plastic bags and other plastic packaging in special Zero Hunger/Zero Waste bins at the front of Kroger stores. Recycle bread bags, bubble wrap, cereal box liners, clean sandwich bags, dry cleaning bags, newspaper sleeves, plastic overwrap from paper towels/toilet paper, plastic grocery bags, produce bags and plastic shipping envelopes.
Visit the Kroger website for more information.
On an exception basis, we may from time to time accept plastic bags that are very clean, which would be provided to the Hope Southern Indiana food pantry service.
Styrofoam
Although Styrofoam food containers and packaging blocks cannot be accepted in Floyd County's recycling program, you may drop off large Styrofoam packaging blocks at:
Foam Fabricators
950 Progress Blvd.
New Albany, IN 47150
Normal Drop-off Hours:
Monday – Friday
8:00 AM – 4:00 PM
Collection currently suspended.
Do NOT attempt to drop material off Saturday/Sunday!
Styrofoam blocks MUST be clean (dirty/dusty items WILL be thrown in the trash) and free of labels, stickers and tape. You MUST check in at front office to have your donation inspected. Do NOT leave any items unattended – they will blow away causing litter!
What We Do Not Accept
Asbestos
Bathroom waste
Camping cooking fuel
Concrete mix and blacktop
Empty gas cans
Garden hoses
Gasoline
Hydrochloric acid
Laminated paper
Nothing larger than a 5 gallon container
Old paint brushes or rollers
Propane tanks
Tar
Tires
Torch fuel containers
Used oil rags
Yard waste
Helpful Recycling Hints
Flatten cardboard boxes.
Make sure bottles, cans, jars, and any other containers are rinsed.
Keep all shredded paper bagged.
We recommend bringing your recyclables in a plastic tote. However, if you bring it in a grocery or garbage bag, empty your recyclables and place the empty bags in the designated containers, not into the recycling bins.
Use reusable grocery bags.

Purchase products made in whole or part from recycled material.

Reduce/reuse/recycle.
Please do not leave items outside the gate after hours. The wind and critters tend to get into the bags and spread all over the property. Plus, we need to inspect items to confirm we accept them.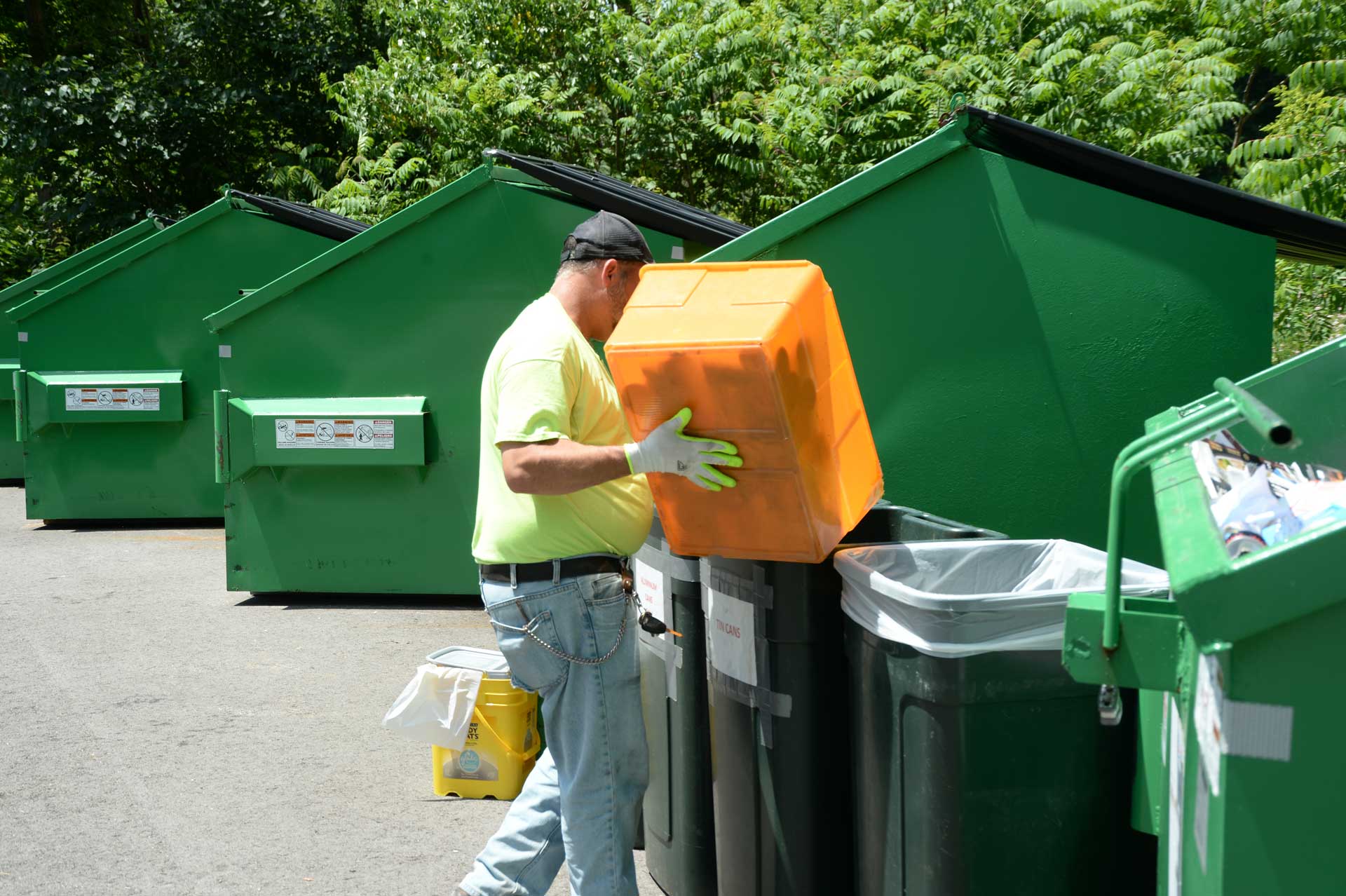 Household Hazardous Waste Recycling
When: 2nd Saturday of every month from April – October
Location: 3005 Grant Line Road, New Albany
Hours: 9:00 AM – 1:00 PM
All Household Hazardous Waste must be in the original container with material identified. If material is not in original container with label, a current valid state issued ID is required along with a flat fee of $30.00 per each unidentified material.
Waste Items $4.00 per gallon
Black Top Patch/Sealer
Latex Paint
Oil-Based Paints
Waste Items $1.00 per gallon/item
Aerosol Cans – Household Cleaners
Lamp Oil
Spray Paints – Etc.
Waste Items $5.00 per gallon
Herbicide/Pesticide Liquids or Solids
Waste Items $10.00 per gallon
Acids (no hydrochloric acid)
Mercury
Tubes $0.25 per linear foot
Broken tubes $1.00 per linear foot
Others $1.00 per items
Pharmaceutical Drop-off Sites
Please dispose of expired or unneeded medications at the following locations:
Baptist Health Hospital (Emergency Room)
1850 State Street
New Albany IN 47150
(812) 944-7701
Open 24 hours a day
Floyd County Jail (Lobby)
311 Hauss Square
New Albany IN 47150
(812) 948-5400
Open 24 hours a day
Floyd County Health Department
1917 Bono Road
New Albany IN 47150
(812) 948-4726
Monday – Friday
8:00 AM – 4:00 PM
Indiana University Southeast
"University Center" Room 027
4201 Grant Line Road
New Albany IN 47150
(812) 941-2333
Monday – Friday
7:00 AM – 10:00 PM
*Please call to confirm what type of medication(s) can be received at each location.